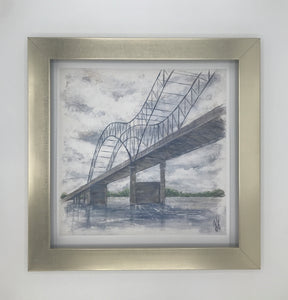 "Memphis Connections" Paper Print
Regular price $3.00 $34.95 Sale
"Memphis Connections" was painted in 2021 during the unforgettable "cracked bridge" incident.  Just as the Memphis community was returning to normal life following the Covid 19 Pandemic, inspectors discovered a crack in a major structural support. The Hernando De Soto bridge was closed for emergency repairs and extreme traffic congestion disrupted travel to and from the Memphis area.
These disruptions served as another reminder of our need for connections with the world around us. Lock downs, social distancing, and defective steel can seem like enormous obstacles, but our desire to connect with family and friends cannot be swayed!
High-Quality, hand-signed, 11x11 print.
**Frame Not Included**